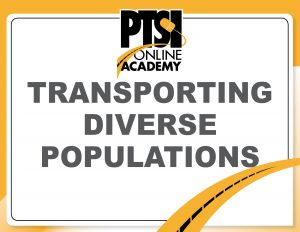 Made possible by the Maria Palacios-Hardes Memorial Fund, the "Transporting Diverse Student Populations" online lesson, part of PTSI's Online Academy, will help transportation professionals learn more about the diversity model, understand the laws and legislation that were created to protect individuals' rights, and increase communication skills relating to sensitivity and diversity.
Increasing sensitivity for transportation professionals was Maria Palacios-Hardes' passion. As a 40-plus year veteran of pupil transportation, Maria Palacios-Hardes believed in people for who they were inside, without consideration of their ethnic, religious or sexual preferences. She understood that diversity is within us and all around us.
"Maria's vision as a safety trainer is now more critical than ever," states Kathleen Furneaux, Executive Director at Pupil Transportation Safety Institute. "The need for school bus drivers and attendants to have awareness and sensitivity toward student differences has become the cornerstone of transporting children physically safe, emotionally secure, and ready to learn."
Maria filled many roles in her career as a NYSED SBDI and Master Instructor, PTSI 19-A program trainer, safety consultant, bus company owner, transportation director and school bus driver. Following her passing in 2017, Maria's wishes were for donations to be made to PTSI in her memory. These funds have launched the "Transporting Diverse Student Populations" online training for transportation professionals to heighten awareness and tolerance for children and coworkers from diverse cultures.
As part of PTSI's Online Academy, the "Transporting Diverse Student Populations" online lesson offers drivers the option of learning and improving skills through individual online training that can be done at any time. Lessons run approximately 45-minutes.
Benefits of online lessons:
Students can learn at their own pace
On-demand (24/7) access to lessons
Flexible format allows student to review as necessary
Individual lessons eliminate the need to wait or form a group for training
To access the "Transporting Diverse Student Populations" online lesson, visit: www.ptsi.org/online-diversity-lesson/
Whether training brand new drivers or certifying those drivers seeking career advancement, Pupil Transportation Safety Institute has the tools and resources for success. To learn more about the PTSI Online Academy, visit https://ptsi.org/online/