Increasing Sensitivity for Transportation Professionals — a free lesson — now more than ever there is a need for more awareness and sensitivity to our many differences. Diversity is within us and all around us. A call for valuing, appreciating and embracing the differences about ourselves and those of our families, friends, neighbors, colleagues and communities.
As a transportation professional you should respect and accept students from diverse backgrounds, beliefs and cultures – they are the same in the goal of safety. Compassion and sensitivity to students as human beings is equally important as their safety.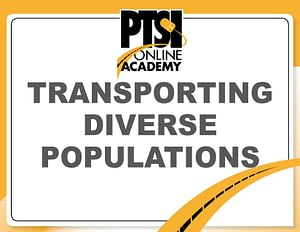 By the end of this training you will be able to:
Define the meaning of diversity.
Know which laws were created to protect individuals' rights and legislation that protects diversity.
Identify the benefits that valuing people's differences can bring into your life.
Understand the diversity model.
Increase communication skills relating to sensitivity.
— This lesson available at no cost thanks to the generosity of the Maria Palacios-Hardes Fund.
Our goal is to provide your transportation department with access to valuable learning and development opportunities. Some of PTSI's best-selling industry-leading lessons are now offered in an interactive web-based format. These online lessons were developed to provide individual training, enhance critical skills, and reinforce best practices in school bus transportation safety.
Other Academy LessonsBegin Course