Breaking News! Evacuating Students with Disabilities DVD
2032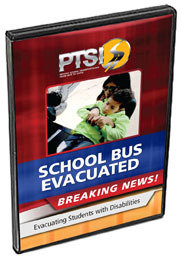 This 10-minute hard-hitting and fast-paced newsroom story about a school bus driver and attendant who found themselves in a position to evacuate their children with disabilities is filled with best practice and procedure for quickly getting students to safety.
This newscast style video highlights the need and importance for training, planning and practicing evacuation of students with disabilities. Written, directed, produced and performed by school transportation professionals, this comprehensive video addresses the process from beginning to end.
Preview:
---
Returns: If for any reason you are not satisfied with a product, please return it in sellable condition within 7 days for a refund or credit less shipping. We cannot accept returns that have been damaged in any way. Please include a copy of the invoice.
Product Use: You as a purchaser are responsible to review all products in light of laws, procedures and policies in effect in your operation. We have attempted to include products which provide a positive and useful message.
All PTSI products are copyrighted unless otherwise noted. Please respect our copyright.