Iowa State Specific School Bus Attendant Training Curriculum Package
1040-IA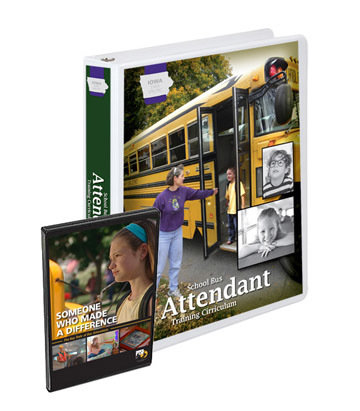 Too often, attendants are overlooked when it comes to training. This course provides a comprehensive overview of the basic information attendants need to know to do their jobs well. Instructor-friendly curriculum package includes complete instructional materials for teaching the 15-hour program. Training includes classroom and on-bus activities.

Curriculum Package Includes:
Instructor's Guide Includes instructional materials for the 15-hour training program: - Comprehensive background information on each topic - Complete, instructor-friendly outline of class activities for each topic - Overhead transparency masters (paper)
CD with PowerPoint Presentation PowerPoint presentation – full-color slides – add impact to your instruction by reinforcing key points.
ONE Sample Trainee Workbook (Additional Workbooks sold separately. See page 15.)
Training Video: "Someone Who Made a Difference" This PTSI-produced video examines the powerful influence school bus attendants and monitors can have on children in today's troubled world. Emphasizes attitude, professionalism, and caring from all front-line transportation staff. 16 minutes. (DVD only).
This curriculum has been customized for Iowa State.
---
Returns: If for any reason you are not satisfied with a product, please return it in sellable condition within 7 days for a refund or credit less shipping. We cannot accept returns that have been damaged in any way. Please include a copy of the invoice.
Product Use: You as a purchaser are responsible to review all products in light of laws, procedures and policies in effect in your operation. We have attempted to include products which provide a positive and useful message.
All PTSI products are copyrighted unless otherwise noted. Please respect our copyright.