Countdown to Safety Calendar
1035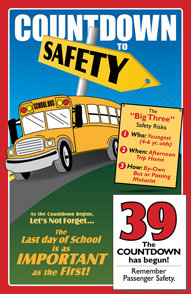 The last 40 days of school are the most challenging for drivers to stay focused on safety. Instead of counting the days left in the school year, make every day count with this colorful 11"x17" safety calendar Each tear-off calendar sheet encourages drivers with an important safety message. Perfect to display in your driver break room or on your Transportation Department bulletin board!
Refills also available.
---
Returns: If for any reason you are not satisfied with a product, please return it in sellable condition within 7 days for a refund or credit less shipping. We cannot accept returns that have been damaged in any way. Please include a copy of the invoice.
Product Use: You as a purchaser are responsible to review all products in light of laws, procedures and policies in effect in your operation. We have attempted to include products which provide a positive and useful message.
All PTSI products are copyrighted unless otherwise noted. Please respect our copyright.